Crackle Medium is a available at an Additional cost.   Must have two colors from either the Acrylic Latex Paint or Simulated Milk Paint charts to achieve this.  When ordering the crackled medium I will need to know the base coat (this is the color that comes through the cracks).  Top coat  (this one actually cracks on top)   Please call for further information.  866-856-2317

Antiquing Liquids are available in a brown or black handrubbed finish.  The black liquid has a distressed look to it.

Last Updated: 7/23/2020
Garbers Crafted Lighting

"quality handcrafted lighting"

Toll Free:   866-856-2317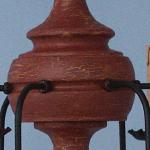 Simulated Color Chip Click Color Card

Acrylic  Latex Paint Color Chip

Click Color Card

Wood Gel Stains Color Card

Minwax Color Chips Wood Stains